"Can you create 5 x 30 second animated shorts with the theme How not to travel?" asked Harry from Irresistible films. "Absolutely!" I replied, and we did. That's the short version. Here's the long version:
Good animation is not quick and it's often not cheap, but crucially, it can be cheaper than live-action, doesn't date as fast and affords a huge array of possibilities. In this case, it was to give a retro feel to comic depictions of nightmare holiday scenarios - the arguments, the tipping, the rush to the airport.
The first stage was to establish a style for the series. Crucially, we had to sympathise with the characters - we've all made poor choices on holiday so we agreed that we didn't want a cast of grotesque caricatures, but a recognisable, representative group instead. Face-to-face meetings and conference calls were crucial to manage the visual development, expectations and establish a rapport between myself, the producers, the agency and the client. Communicating visual ideas over the phone or email can work if there's a solid, existing relationship and shared understanding of the language, but it's easy for projects to go awry, and nothing beats sitting down together in a room with sketchpad and pencil.
Once the storyboards were approved, it was time to enter production. The cast of 21 characters were built in 3D but carefully proportioned and rigged to bring a traditional visual sensibility and rendered in flat colour. 2D animation traditionally requires multiple rigs per character depending on whether they are seen from the front, side, or at an angle. Only a single skeleton per character was required for 3D. However, to reinforce the 2D style, the facial animation was entirely 2D and tracked onto the 3D renders in post.
With the characters established, the next step was to create storyboards for each short film. It was great to draw on the traditional schools of animation, framing the protagonists and events in a formal, theatrical style against scrolling backdrops.
The inimitable Werner Herzog describes the use of storyboards as cowardly, but when dealing with several layers of producers and clients, they're truly essential to manage everyone's expectations and expose any flaws in the narrative.
In the second film 'The Perpetual Honeymooners', we had to convey a young couple pretending they were newlyweds over and over again, holiday after holiday, to blag an upgrade. By using a split-screen and the fast cutting of a heist movie, we got the point across in superfast time.
The backgrounds were all digitally painted using the storyboard stills as a basis. Early on, it was planned to give each animation a distinct visual identity through a strikingly different grade. However as production progressed, it became clear that the huge variety of locations and lighting conditions brought their own identity and mood, as did the distinctive characters, and there was no need to apply a stylised grade.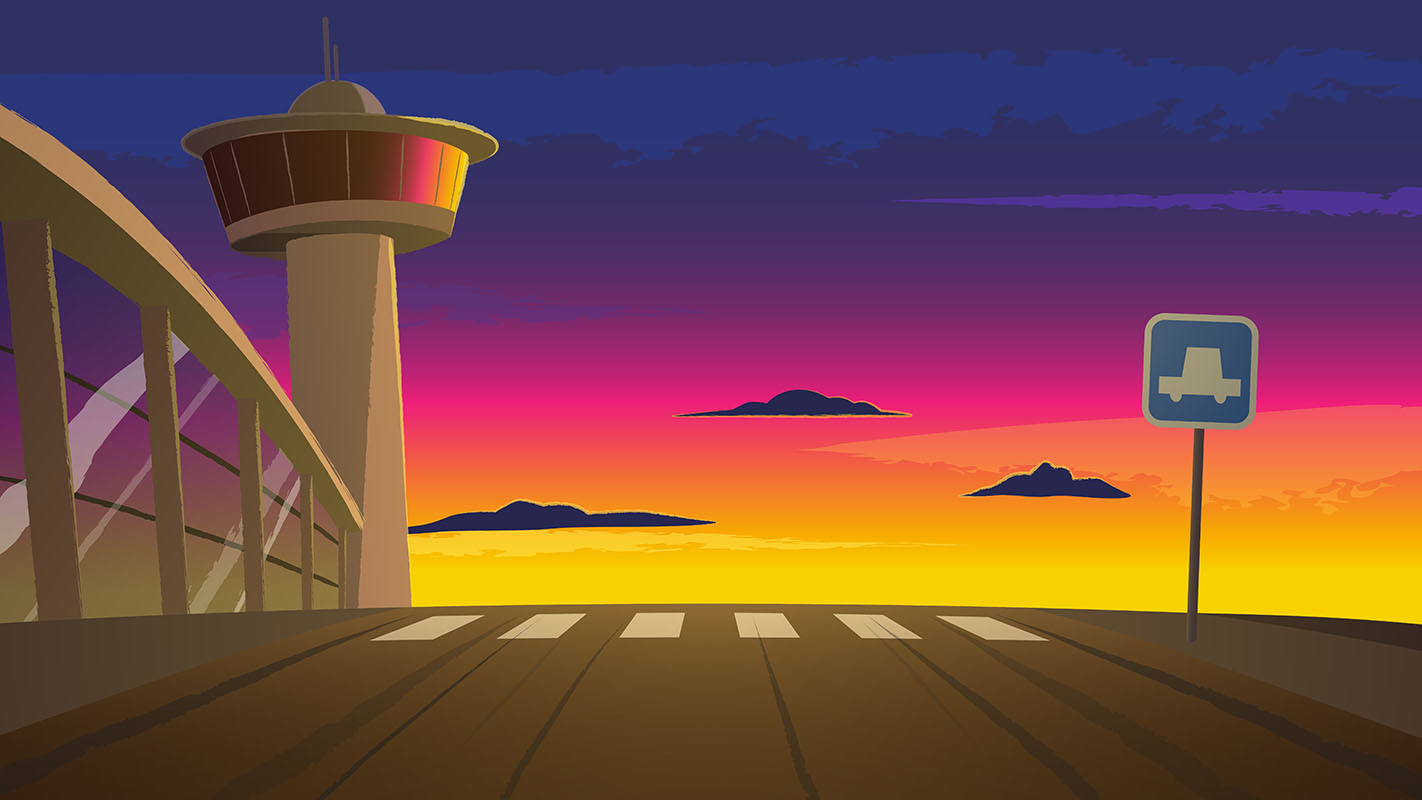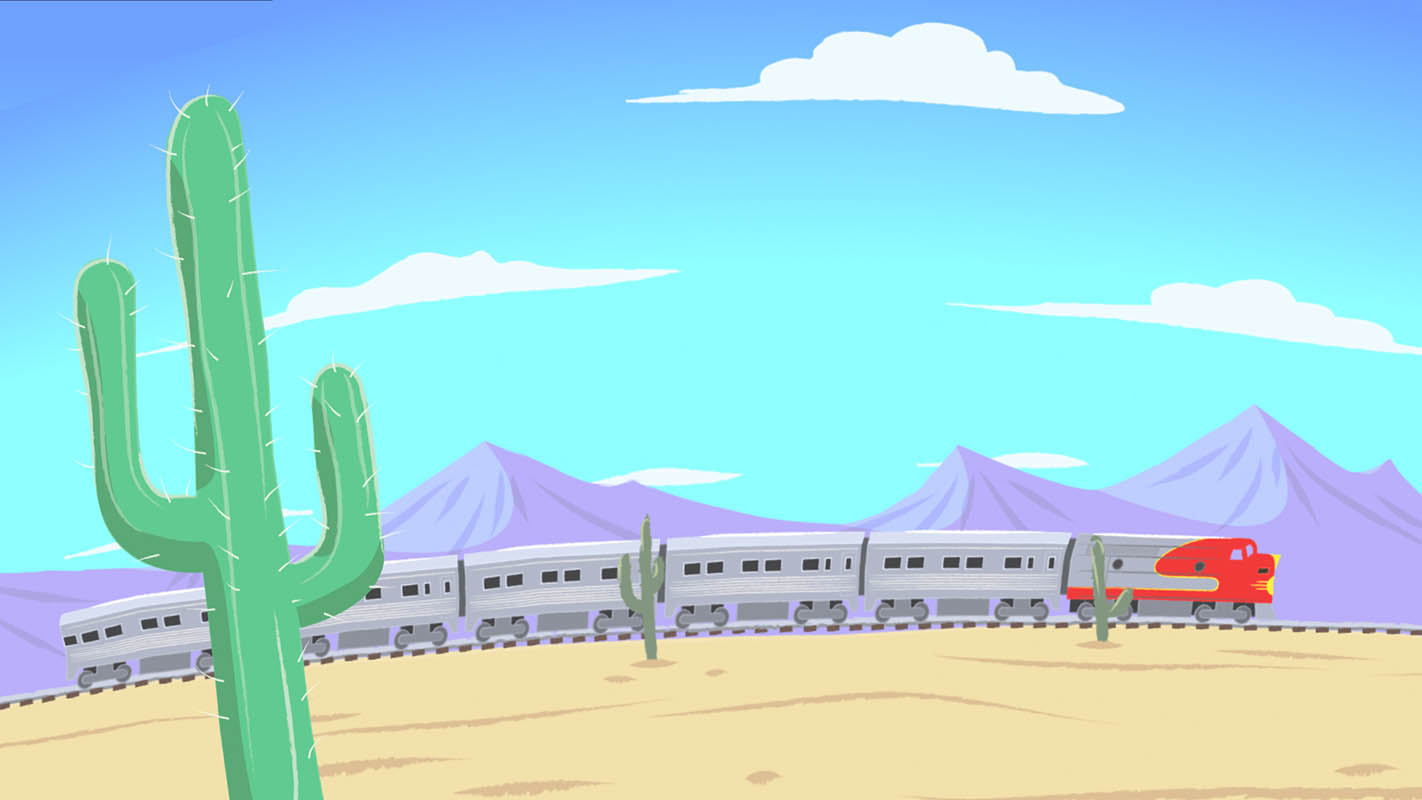 With the pipeline in full flow, progress was good.
Of course, nothing ever goes quite without a hitch, and late in the day it was decided that the mum from final animation 'The Cheap Skates', was a bit too dowdy and needed some glamour. We went back to the drawing board and built a whole other mother. The advantage however of using 3D-rigged characters was that we could copy the biped animation across to the new character and re-render.
Everything was coming together nicely! Two crucial elements remained. Firstly, Rachel Salmon - typographer and graphic designer - created titles with a distinctive look to complete the homage to vintage 'Merrie Melody' cartoons. Secondly, Jamie Robertson provided sound design and score. It's said that animation is 40% visual and 60% audio. It's true. Animation never truly comes to life until you can hear it and Jamie has a gift for finding the emotion that underpins any story.
A few tweaks here and there were all that remained and the files were delivered. It was one of the most varied and fun jobs I've been involved in and working with other exciting, engaged creatives along with inspiring producers makes all the difference. If I had to pick a favourite, it'd be the Perpetual Honeymooners. Watch it below. Thanks for reading!